September 17, 2013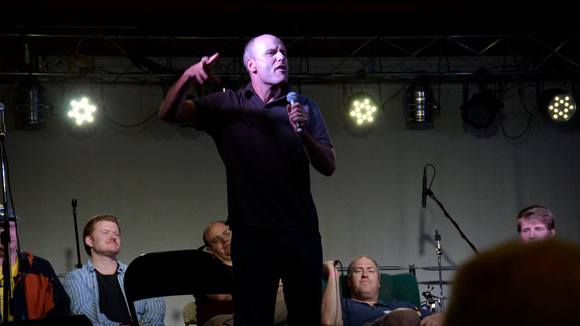 We're excited to announce that Stefan Molyneux has signed on to the cast of Desertion in providing a voice-over for the anti-war rally scene.
Stefan is the founder and host of Freedomain Radio, the largest and most popular philosophical show in the world. With more than 2,300 podcasts, 10 books and 50 million downloads, Stefan has spread the cause of liberty and philosophy to listeners throughout the world.
As the host of Freedomain Radio, Stefan has interviewed experts Dr. Nathaniel Branden, Dayna Martin, Jeffery Tucker, Dr. Warren Farrell, Janet Heimlich, Peter Schiff, Dr. Peter Boghossian, Dr. Mary J. Ruwart, Stephan Kinsella, Lloyd deMause, Dr. Cordelia Fine and many others.
Prior to launching Freedomain Radio, Stefan built a thriving career as a software entrepreneur and executive. In 2006, he left his work in the tech industry to devote his efforts to Freedomain Radio. Now a self-identified full-time parent and philosopher, Stefan speaks regularly at liberty-themed events all over North and South America. His speeches cover subjects ranging from politics, philosophy, science, atheism and economics to relationships, parenting and how to achieve real freedom in your life.
Stefan is the author of two novels, "Revolutions" and "The God of Atheists," as well as eight non-fiction books on relationships, government and religion.
Past live appearances include presentations at the New Hampshire Liberty Forum, the Porcupine Freedom Festival, Libertopia, Students For Liberty, FreedomFest, LibertyNow, Capitalism and Morality, LibertyFest West, the Brazilian Mises Institute's Idieas em Movimento, Freedom Summit, and the Global Escape Hatch.
Stefan has participated in a number of live debates, among them: "The Function of the State in Society" with Professor Vladimir Safatle, "How Much Government is Necessary?" with Michael Badnarik, "The Role of the State in a Civil Society" with Sam Seder, "Conservatism vs. Anarchism" with Jake Diliberto, "Should Libertarians Abandon Politics?" with Ernest Hancock and "Atheism vs. Agnosticism" on Free Talk Live.
In addition to hosting his own regular show, Stefan has been a guest on radio and television programs such as RT America's "Breaking the Set" with Abby Martin, "Adam vs. The Man" with Adam Kokesh, and "The Keiser Report" with Max Keiser.
Check out Stefan's YouTube channel.
Check out FreeDomain Radio.
To Share With Friends
Comments